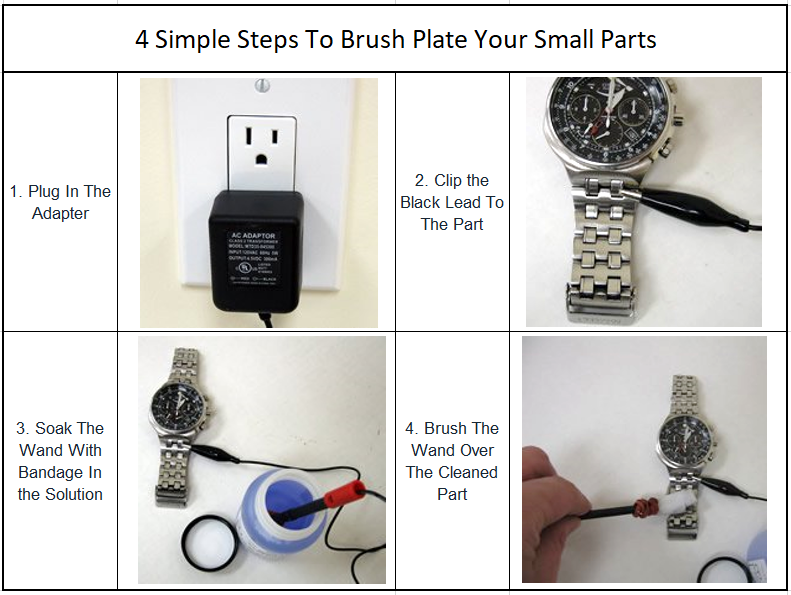 Plug N' Plate® is a new concept in plating small parts. Our unique power pack supplies just the right amount of power allowing you to brush, and in some situations, dip plate your smaller components.
The Plug N' Plate® system will also allow you to patch repair areas where the original plating has worn away.
Plug N' Plate® is ideal for vintage vehicle restorers, antique collectors and dealers, and small workshops doing prototype work.
What could be simpler? The Plug N' Plate® wand is attached to the red plug on the Power Pack, and the alligator clip is attached to the work-piece. The end of the wand is covered in an absorbent bandage, which is soaked in the plating solution for a few seconds.
By simply stroking the part with swift brush strokes, the circuit is closed and the plating metal bearing solution goes to work, depositing its beautiful layer onto the object.
Plug N' Plate® is perfect for gold plating car emblems. Simply strip the chrome off with Chrome Stripper, then apply the gold. Full instructions are included.
Plug N' Plate® may be applied onto most metals. To see which kit plates onto which metal, read our INSTRUCTION booklet. To plate onto Stainless Steel, use our Stainless Steel Activator first, with a stainless wand and 4.5V power pack. When gold plating onto stainless, apply our Stainless Steel Activator For Gold with a stainless wand and 4.5V power pack, then you may gold plate directly onto the stainless part.
We do not recommend plating aluminum directly with our Plug N' Plate® kits.
* – Manufacturer Direct Pricing. Plug N' Plate® is a registered trademark of Caswell Inc.
Download the following metal chart to give you an overall concept of which metals can be plated, with each kit and the steps required. You may require another kit to use as a base coat. METAL CHART.
COPPER PLATING KIT
Copper can be a great repair tool, filling in scratches, or if lacquered, can be an eye catching finish. It can also be 'antiqued' into bronzes, and the famous copper green patina.
1 x Plug N' Plate® Power Supply 4.5V
1 x 8oz Copper Solution
1 x Copper Brush Plating Wand
1 x Wand Bandage
1 x Instruction Booklet
Free Technical Support
Your part needs to be clean and shiny before plating.
Click here to see the difference in SURFACE FINISH VS PLATING FINISH.