Thoroughly clean the part to be blackened by sandblasting, wire brushing, wire wool abrasive cleaning, or by scrubbing in VIM or COMET household abrasive cleaner. Make sure you have removed all rust, paint, oil and grease. Thoroughly rinse prior to immersing into the concentrate.
Easily spot blacken steel (not stainless) or iron. Simply apply the black oxide gel where you want the blackening to occur. The gel keeps the blackener in place. Leave it on the part for 1-3 minutes and rinse off. Seal with Caswell Sealer for a dry finish.
Black Oxide Gel Kit Includes:
4 fl oz Black Oxide Concentrate Gel (covers approx 2 sq ft)
4 fl oz Caswell Sealer
Disposable Vinyl Gloves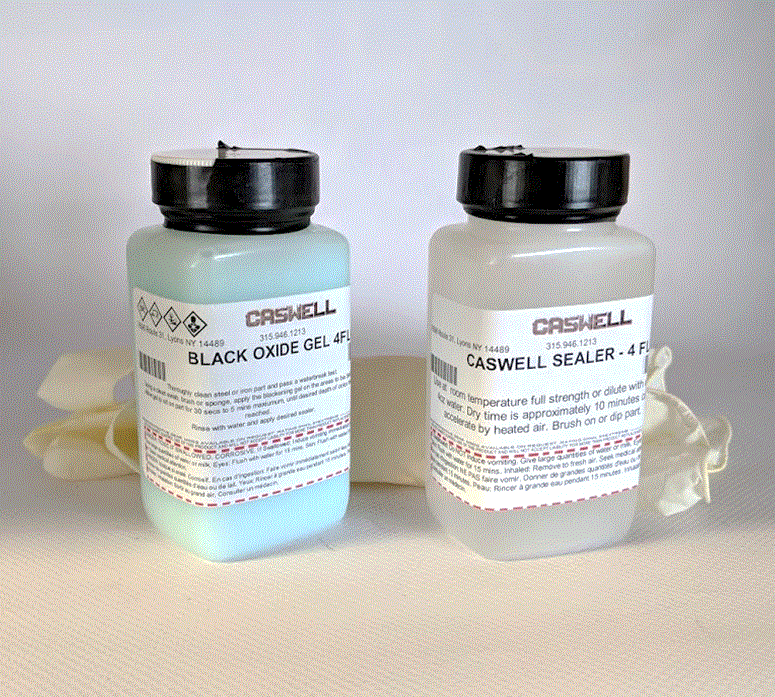 Black Oxide Gel
1. Clean parts with detergent based degreaser. Rinse with distilled water
2. Apply Gel with brush or cotton swab. Allow blackener to sit on part for 1-3 minutes until desired level of black is achieved. Rinse off with distilled water.
3. While still wet from rinse, seal with Caswell Sealer. Allow to air dry, or use a hair dryer.
SEALER CONCENTRATE
Use at  room temperature full strength or dilute with up to 4oz water. Dry time is approximately 10 minutes can accelerate by heated air. Brush on or dip part.
Black oxide is not a high corrosion resistant coating.  The corrosion resistance comes from the top coat, which can be one of the following,  penetrating oil, sealer concentrate, wax or clear coat can all be used.  It is not suitable for severe outdoor applications or corrosive environments.