Electroless Krome is now our Cobalt Plating Kit
Looks Like Chrome – Not A Yellow Nickel!
Hard Like Chrome – Tougher Than Nickel!
Keeps Its Shine – Just Like Chrome!
One coat system – eliminates 2 steps!
No Batteries, Rectifiers or Other Power Sources Required
Plates Many Metals – All Steels, Irons, Copper, Brass, Bronze, Titanium, Lead Free Solders, and Nickel Alloys. Aluminum With Zincate Pretreatment.
Our new Cobalt Plating Kit operates in exactly the same manner as our Electroless Nickel kits. The kit is pure cobalt…no nickel or other additives, which means it's perfectly safe for jewelry or other items where nickel rash was a problem. Cobalt gives the plate a dazzling chrome look and imparts more hardness to the surface, without any hazardous materials. Applied to a previously polished surface and then buffed lightly, the finish will match most commercial chrome plated pieces.
When electroless plating, you may not plate any item that has a surface area exceeding the maximum load of the bath. The maximum load is 30 sq. in./quart of plating bath. Refer to the table below
After making up the initial solution, each kit can be replenished with the included replenisher chemical, to a maximum of 10 times. After 10 times, the bath must be disposed and a fresh bath made. Based on the size of the kit, each kit will plate a certain amount of surface area. Refer to the table below. Replenishment chemicals can be purchased separately.
Please download and read

the manual before purchasing
| | | |
| --- | --- | --- |
| Kit Size | Maximum Load (largest size part) | Approx Total Surface Area Available @ 0.0005" |
| Mini | 75 sq in. | 132 sq in. |
| Standard | 150 sq in. | 264 sq in. |
| Deluxe | 300 sq in. | 528 sq in. |
| Jumbo | 600 sq in. | 1056 sq in. |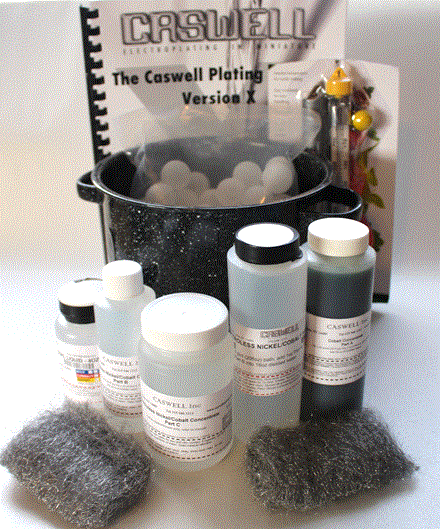 Mini Kit (Makes 5 Pints)

1 x 4 Qt Glass Lined Tank
Thermometer
Mist Control Balls
Cobalt Concentrate – Part A 8 oz

Cobalt Concentrate – Part B 12 oz

Cobalt Concentrate – Part C 8oz
END Plate Out Disposal Concentrate 4 oz
2 Steel Plate Out Pads
The Caswell Plating Manual
Free Technical Support


Standard Kit (Makes 10 Pints)

1 x 6 Qt Glass Lined Tank
Thermometer
Mist Control Balls
Cobalt Concentrate – Part A 16 oz
Cobalt Concentrate – Part B 24 oz
Cobalt Concentrate – Part C 16 oz
END Plate Out Disposal Concentrate 4 oz
2 Steel Plate Out Pads
Measuring Cup
The Caswell Plating Manual
Free Technical Support


Deluxe Kit (Makes 2.5 Gals)

1 x 14.6 Qt Glass Lined Tank
Thermometer
Mist Control Balls
Cobalt Concentrate – Part A 32 oz
Cobalt Concentrate – Part B 48 oz
Cobalt Concentrate – Part C 32 oz
END Plate Out Disposal Concentrate 4 oz
8 Steel Plate Out Pads
Measuring cup
The Caswell Plating Manual
Free Technical Support


Jumbo Kit (Makes 5 Gal)

1 x 34 Qt Glass Lined Tank
Thermometer
Mist Control Balls

Cobalt Concentrate – Part A 64 oz

Cobalt Concentrate – Part B 96 oz

Cobalt Concentrate – Part C 64 oz

END Plate Out Disposal Concentrate 8 oz
16 Steel Plate Out Pads
Measuring cup
The Caswell Plating Manual
Free Technical Support